Portraits of Spain, November 2 2019
                                                               PROGRAM     
Estudio                                                                                                                    Francisco Tárrega                                                          Lágrima "Teardrop"                                                                                                          (1852-1909)                                                                Adelita                                                                                                                                                                                                          Recuerdos de la Alhambra                                                                                                                                                
Taranto                                                                                             Kilinos Jimenez/Gerardo Morales                                                      Bulerías                                                                                                                       Gerardo Morales                                                                                                                   Gerardo Morales, guitar                                                                          
Spanish Dance No. 5, Andaluza                                                                                Enrique Granados                                                                                                                                                                                                                   (1867-1916)                                                            Danse Espagnole from La Vida Breve                                                                        Manuel de Falla                                                     *arranged by Fritz Kreisler                                                                                               (1876-1946)                                                   Zapateado                                                                                                                   Pablo de Sarasate                                                                                                                                                                                                                  (1844-1908) 
                                    Agnes Schwartz, violin    Natalia Hudson, piano 
Cant dell Ocells                                                                                                                   Pablo Casals                                                              "Song of the Birds"                                                                                                                (1876-1973) 
Danza del terror  "Dance of Terror"                                                                              Manuel de Falla                                                          Danza ritual del fuego  "Ritual Fire Dance"                                                                         (1876-1946)                                                                        from El amor brujo
                                    Pola Benke, cello     Natalia Hudson, piano 
Piano Trio No. 2 in B minor                                                                                              Joaquín Turina                                                                    I.    Lento – Allegro molto moderato- Allegretto                                                                 (1882-1949)                                                                    II.   Molto vivace – Lento – Molto vivace                                                                                                                                                                    III.  Lento – Andante mosso – Allegretto -  Allegro vivo 
                Agnes Schwartz, violin     Pola Benke, cello     Natalia Hudson, piano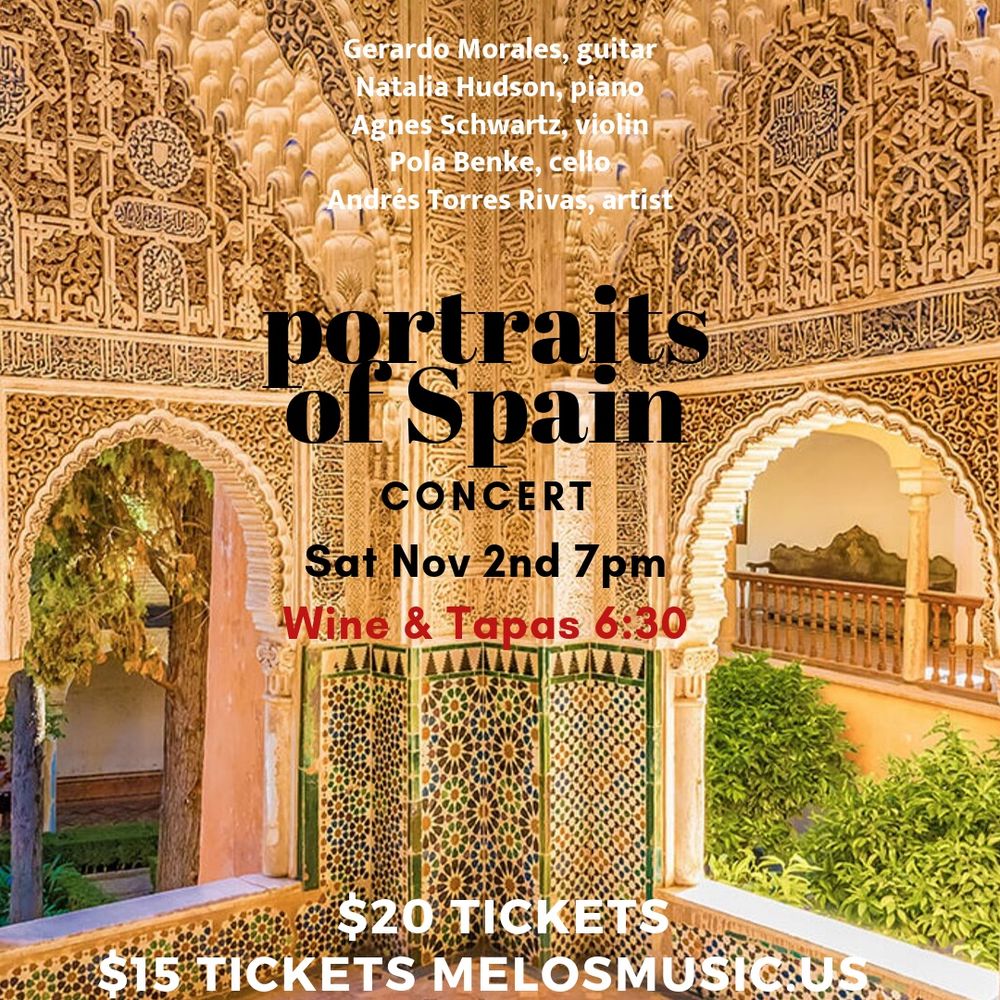 Program Notes
Francisco Tárrega (1852-1909) is known as the "father of the classical guitar" as he laid the foundations for 20th century classical guitar and increased interest in the guitar as a recital instrument.  As a Spanish composer, he combined the Romantic style of the time with Spanish folk elements.  Although a virtuoso classical guitarist, known as the "Sarasate of the guitar," he preferred intimate performances over the concert stage.
Recuerdos de la Alhambra, inspired by his time in Granada made possible by a wealthy patron, and Lágrima, "Teardrop" are two of his most famous compositions. Lágrima was composed after a trip to England where he was supposedly sad after a concert.  An audience member suggested if he missed his home, he should capture that moment of sadness in his music. Tárrega was good friends with all of the great Spanish composers of the time and on our program: Albéniz, Granados, Turina, and Casals. 
Taranto is a style of Flamenco music that originated in the Andalusian province of Almería. With a 2/4 danceable meter, it has a unique sound that is created by dissonances from playing the guitar's first three open strings (E, B, and G), and harmonies and melodies based on the F-sharp Phrygian mode.
Bulerías, one of the most popular and dramatic of the flamenco forms, originated in Jerez during the 19th century as a fast, upbeat ending to soleares or alegrías. Often ending a flamenco set or gathering, it is the style which permits the greatest freedom for improvisation, due to its meter. Speed, agility, and total control of rhythm are required to perform the fast flamenco rhythm of bulerías: 12 beats with emphasis on beats generally as follows (and starting on beat 12 so the accented beat is heard first):
1 2 3 4 5 6 7 8 9 10 11 12                            or                        1 2 3 4 5 6 7 8 9 10 11 12
Enrique Granados (1867-1916), one of the most beloved of all the great Spanish composers, composed mainly for the piano, yet many of his works have been transcribed for other instruments, such as the Spanish Dance no. 5, "Andaluza" for violin and piano. The music of Granados is very introspective; his style evokes substance and meaning, exposing the ideas hiding behind outer appearances. He therefore was rightly compared with the artist Goya: "Like Goya he was able to reproduce the essence of what he saw; he knew how to look for what was hidden behind the facades."
Manuel de Falla (1876-1946) Along with Tárrega, Granados, and Albéniz, Falla was one of Spain's most important composers of the first half of the 20th century. His first important work was La vida breve, "Life is Short, or The Brief Life," a one-act opera of which his Danse espagnole has become the most popular, especially Kreisler's arrangement for violin and piano. Falla was also interested in native Andalusian music, particularly Andalusian flamenco, such as cante jondo. This interest and influence of flamenco can be strongly felt in many of his works. 
From the ballet El amor brujo, "The Bewitched Love," the cello and piano version of The Dance of Terror and Ritual Fire Dance embodies the rhythmic vitality and distinctively Andalusian character that makes Falla's compositions so intriguing to audiences. In El amor brujo, a young Andalusian gypsy girl Candela is haunted by the ghost of her dead husband. The entire village knows about the haunting, but still brands Candela as crazy because she has to dance every night with her husband's ghost ("Danza del terror"). To get rid of him, all the gypsies make a large circle around their campfire at midnight. Candela then performs the Danza ritual del fuego, the ritual fire dance necessary to cast the ghost off. Puro fuego, indeed!
Joaquín Turina (1882-1949) was born in Sevilla, spent his student days (1905-1914) in Paris and the rest of his life in Spain. Albéniz recommended that he study in Paris and also incorporate Spanish folk music in his compositions, particularly music of his native Andalucía. He studied piano with Polish virtuoso Moritz Moszkowski in Paris and knew both Debussy and Ravel. Both Spanish and French influences are equally heard in his music. The French emphasis on melody and beauty of texture is apparent in his Piano Trio No. 2 in B Minor. Using the "cyclical" technique used by Franck and other French composers, the world of French impression is heard in this work. Originally titled "Three Nocturnes," the exquisite first movement themes are stated, elaborated, stated again, but not subjected to the torment of development. The second movement is in a very Spanish 5/8 metre, with a rapid accompaniment of the strings and modal piano chords layered on top. The final movement has shifting moods, apparent in the many tempo changes. Opening with the cello and some warning dark chords on the piano, the main theme is stated again at triple speed.
Piano Duo Program, May 18 2019
Pianists Basia Bochenek and Natalia Hudson
Sonata in D Major K. 381                                                                 W.A. Mozart (1756-1791)                                                                                  I.   Allegro                                                                                                                                                                                                                  II.  Andante                                                                                                                                                                                                                III. Allegro molto                     
Fantasie in F minor                                                                      Franz Schubert (1797-1828)                                                                          Allegro molto moderato----Largo----Allegro vivace---Allegro molto moderato                                
Slavonic Dances                                                                            Antonín Dvorák (1841-1904)                                                                                Op. 72 No. 2 in E minor: Allegretto grazioso (Starodávný)                                                                                                                                        Op. 72 No. 3 in F major: Allegro (Skočná)                                                                                                                                                                  Op. 46 No. 7 in C minor: Allegro assai (Skocná)                                                                                                                                                        Op. 46 No. 8 in G minor: Presto (Furiant)                                                                                                                                                                                   
Winter Morning in Istanbul                                                           Fazil Say (b.1970)
W.A. Mozart's Sonata in D major K. 381 for four hands at one piano was composed in 1772, the year in which Mozart later returned to Italy with his father Leopold to supervise the opening of his new opera Lucio Silla. Composed for Mozart and his sister Nannerl to play, they performed the work at the arch-episcopal court in Salzburg in 1780. The three-movement work is best described as a reduction of an Italian symphony where the distinctive writing for strings and winds and of solos and tuttis is clearly laid out. 
Schubert's Fantasie in F minor, one of his most important works, was dedicated to Caroline Esterházy with whom Schubert was in unrequited love, and is also one of the most important works in the complete repertoire written for more than one pianist. The four movements of the Fantasie are interconnected and played without pause, which represents a stylistic bridge between the traditional sonata form and the free-form tone poem: allegro, slow movement, scherzo, allegro with fugue. The piece opens with a lyrical melody with dotted rhythms that is reminiscent of the Hungarian style. The theme is eventually repeated in F major, before briefly repeating in F minor, and transitioning into a somber, almost funeral, second theme. After developing the two themes, the second movement opens with an angry, somewhat turbulent fortissimo theme in F♯ minor. The Largo tempo coupled with double-dotted rhythms creates a great deal of tension in this movement. Eventually the first theme gives way to a quiet, lyrical second theme. The themes in this movement were inspired by Paganini's second violin concerto, which Schubert had recently heard. The third movement scherzo is a bright, lively movement in the same key, reminiscent of the scherzos of other works Schubert wrote at this time, like those of his piano trios. The finale begins with a restatement of the first movement's primary theme in both F minor and F major, before transitioning into a fugue based on its second theme. The fugue builds to a climax, ending abruptly on the C major dominant, instead of resolving into either F major or minor. After a bar of silence, the first theme briefly reprises, subsiding into a quiet end. Condensing the dichotomies of the two themes into the final eight bars, it is considered the most remarkable cadence in the whole of Schubert's work. 
The Slavonic Dances are a series of 16 orchestral pieces composed by Antonín Dvořák in 1878 and 1886 and published in two sets as Op. 46 and Op. 72. Originally written for piano four hands they were orchestrated at the request of Dvořák's publisher soon after composition. Inspired by the Hungarian Dances by Johannes Brahms, they are lively and full of national character. Whereas Brahms made use of actual Hungarian folk melodies, Dvořák only used the characteristic rhythms and structure of Slavic folk music to evoke their style and spirit; the melodies are entirely his own. Slavic folk dance forms including the skočná; the Bohemian furiant, and the Ukrainian dumka are found in both Op. 46 and Op. 72.  These delightful pieces earned Dvořák international acclaim and are still considered among his most memorable works. 
Fazıl Say (b. 1970) is a Turkish composer and pianist whose compositional and performance style is famous for bridging old and new musical components and the eastern and western worlds. His works are rhapsodic and fantasia-like in structure, often derived from Turkish folk melodies, dance rhythms, and Arabian scales. Like many of his other works, Winter in Istanbul contains imitations of the sounds and colors of traditional "Eastern" instruments, such as the Turkish saz (lute) and the bağlama, also a long-necked lute. The sound is created when the pianist presses the piano strings with the left hand to dampen or mute the sound. Composed completely in the musical mode of hicaz, Winter in Istanbul takes us into a world of fantasy, where we can reminisce of the old romantic Istanbul from a few decades ago, taking us far away from the stress, high rise apartment buildings, and concrete pathos of modern city life. 
"Up to a few decades ago, the Istanbul of centuries past was a romantic and nostalgic place, but it no longer exits. With its current population of 16 million and many housing districts and high-rise apartment buildings, it's now an ugly city of concrete. We artists are envious when we see old pictures, boat houses, coastal mansions and small palaces - so we try to flee into the past, far away from stressful, concrete, bad Istanbul. The only place we can actually flee is into our fantasy. "Winter Morning in Istanbul" is composed completely in the musical mode of "hicaz." It's difficult to play that mode on the piano, but this piece is my attempt to come to terms with it on the piano." Fazil Say